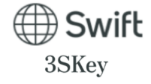 Interaction with third party software
You encounter issues during installation
If you experience issues during the installation, then please check if you can temporarily disable the following software:
AVG Antivirus: Wrongly reports jvm.exe as infected (false positive) and blocks the installation of the 3SKey software
The following programs contain older version of Gemalto drivers and must be uninstalled before the 3SKey software can be installed:
IDGo 800
eToken PKI Client
Safenet iKey
You encounter issues during the login
If you experience login problems and cannot connect to the portal, then please check if you temporarily can disable or uninstall the following software:
Sagem Cryptographic Token Server v. 5.02: This service is installed with Safran tokens and can block the login to the 3SKey portal. You can stop this service via services.msc. Note that stopping the service will prevent use of the Safran tokens (until the service or the computer is restarted). If the Safran tokens are no longer in use then you can uninstall the Safran Morpho software completely.
ActivIdentity ActivClient: This software is sometimes preinstalled on HP computers and prevents access to the token
Microsoft Security Update - 2830477: If this update is installed make sure the hotfix 2913751 is also installed. Impacts Windows 7 and Windows Server 2008 only.
TrendMicro Antivirus
GPG 4 Win
Kaspersky Antivirus: Disable the "Secure Keyboard input" option under settings > secure data input, or add an exclusion for the 3skey.com portal. More information on the Kaspersky website.