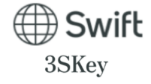 "Request Authentication" window freezes
The "Request Authentication" window appears when several certificates are in the browser keystore, prompting the user to select the appropriate certificate before continuing.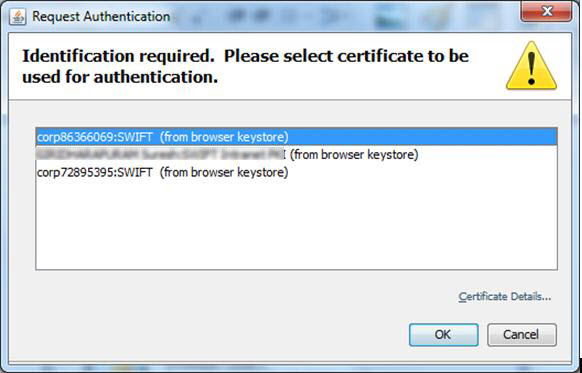 It is possible that, during login to the 3SKey portal, this window freezes. This is cause by a bug in Java 6 Update 24 and higher.
The preferred solution is to upgrade to a supported version of Java 7. See the Prerequisites section in the 3SKey Token Installation Guide for the minimum levels of Java supported. If required, the latest version of Java may be downloaded here
If it is not possible to upgrade to a version 7 of Java, then the Java Next-Generation plug-in must be disabled.
To disable the plug-in, proceed as follows:
| | |
| --- | --- |
| 1 | Open the Java Control panel |
| | |
| --- | --- |
| 2 | Select the Advanced tab |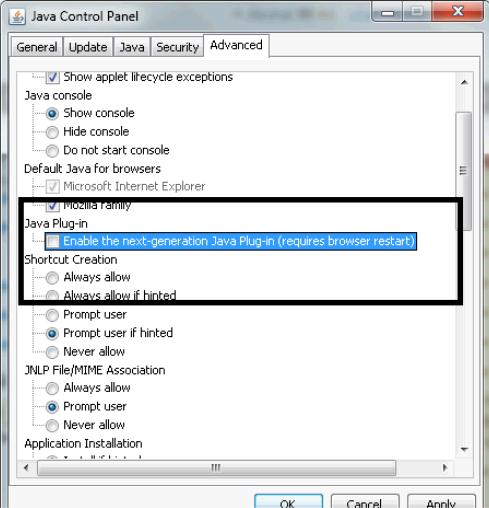 | | |
| --- | --- |
| 3 | Navigate to Java Plugin |
4

Uncheck the option Enable the next-generation Java Plug-in
(requires browser restart)