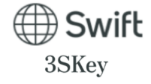 Installation and support for Mac OS
Install and use your 3SKey token on a MAC
Support for MAC OS:
The use of 3SKey tokens has been qualified on MAC OS. The support is limited to using 3SKey tokens on a MAC for signing transactions. The token management, including the activation, on the 3SKey portal must be done from a PC. You cannot login to the 3SKey portal from a MAC.
When your token has been activated and the software has been installed on your MAC please liaise with the support of your signing application to learn how to use their application on a MAC.
Note : The driver for MAC is supported only on the following operating systems:
Mac OS X 10.14 (Mojave)
Mac OS X 10.13.1 (High Sierra)
If you receive a message saying the installation was blocked because it comes from an unrecognized developer, please refer to the instructions available at https://support.apple.com/en-en/HT202491 to temporarily deactivate the Gatekeeper.
How to verify that the certificate is detected on your MAC:
When the Safenet software has been installed on the MAC you can plug your token and verify that the certificate is detected properly:
Click the Safenet Authentication client icon to open the menu. The icon is located in the top-right corner of your monitor when a token is inserted.
Select Tools menu
Click the icon to access the Advanced Settings
Under SWIFT_PDI open User Certificates. The 3Skey certificate appears. If it is activated, it is valid for 3 years.

The certificate will also be available in the MAC Keychain Access (Finder > Applications > Utilities > Keychain Access) under SWIFT_PDI. After selecting SWIFT_PDI you can test the token password by clicking on the Lock symbol

on at the top of the page.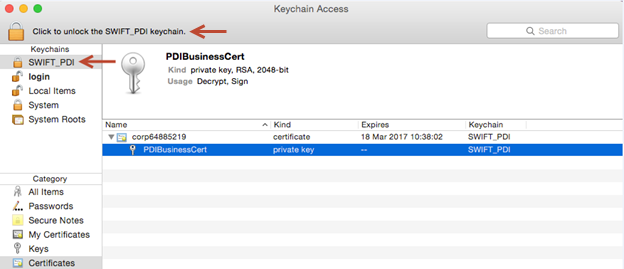 Please contact the support of your bank's signing portal for further instructions on how to use the token in their application and to learn of their browser and Java prerequisites. The certificate is immediately available in browsers such as Safari or Google Chrome. If your bank recommends Mozilla Firefox, you can find instructions on how to configure it on this page.
Note : If your signing portal uses Java please consult the Java website to learn what are the recommended web browsers versions.
Installing the Firefox Security Module:
In Firefox select Preferences > Privacy & Security.
Under Certificates click Security Devices.
Click Load.
The Load PKCS#11 Device window opens.
In the Module Filename field enter the following string:
/usr/local/lib/libeTPkcs11.dylib
The Confirm window opens.
Click OK.
The new security module is installed.