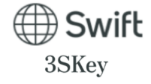 How to renew a token?
Renew your token and certificate
The 3SKey tokens have a lifetime of 3 years after they have been activated on the 3SKey portal, then they must be renewed. The renewal process will need to be performed between 3 months before the expiry date of the certificate on the token and the date of expiry.
For the renewal process you will need to use a new inactive token or order a new token from your bank.
You will find the Renewal procedures in the Related information section on the right of this page.
Note: There is no need to add the new token to the User group before the renew procedure.
To know the expiry date of your current token please login to the 3SKey portal with your token and use the Key Information function which will display "Issued" date and "Expires" date. The 3SKey administrators also have access to a "Manage User Group" page that shows the expiry date of all the tokens in the user group.