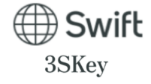 Verify the configuration of Java and Internet Explorer
Logging in to the 3SKey portal using Java requires the 3SKey software, Internet Explorer 11 and Java 32-bit.
See the Token Software Installation Prerequisites section in the 3SKey Token Installation Guide for details on supported operating systems and Java versions.

You can see what versions are currently installed by executing the SelfTest under the Start menu > All Programs > Swift Token Client (the 3SKey Token software must be installed). The results will be displayed after a short time and will indicate your operating system, version of Java 32 bit and version of Internet Explorer.
Configure Internet Explorer
In order to connect to the 3SKey portal, you need to use Internet Explorer 32bit. If you are using a 64bit operating system and Internet Explorer 32bit is not your default browser, you need to start it manually by launching iexplore.exe under C:\Program Files (x86)\Internet Explorer\.
TLS 1.2 needs to be enabled in Internet Explorer. Please refer to How to enable TLS 1.2 in your browser for more information.
Configure Java
In order to be able to connect to the 3SKey portal using Java, you must use a supported 32 bit Java version. The minimum supported versions are Java 7 update 79 and Java 8 update 45.
We recommend to download and install the latest Java 32 bit version from http://www.java.com/en/download/ie_manual.jsp.

How to test Java
If, during your login to the 3SKey portal the Token dropdown list stays empty on the Login page (as in following screen) it means that Java is not starting properly.



Verify that you are using a supported version of Java, that Java is configured properly and that you are using the correct version of Internet Explorer as per the above instructions
Test Java by going to http://www.java.com/en/download/installed.jsp. Click on Agree and Continue. If Java doesn't start, then you must reinstall a supported version of Java or verify with your IT support what could prevent it from starting