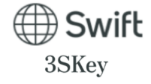 SConnect
What is SConnect and how to install it?
SConnect is a browser extension that can be used to access the 3SKey portal. SConnect makes it possible for the 3SKey portal to communicate with tokens directly in the browser using JavaScript, as an alternative to Java applets.
Note about Java : Java applets are being discontinued for industry security initiatives and support for Java applets on the 3SKey portal has stopped on Dec 31 2019. Your signing application might still require Java, please contact your provider for more information. Java and SConnect can be installed together. The 3SKey portal will use SConnect if both Java and SConnect are installed.
SConnect is supported on the latest versions of Firefox, Edge, Chrome and Internet Explorer 11.
You can verify whether SConnect is already installed by looking for the SConnect icon
in the Command bar of the browser.
How to install SConnect?
You must install both the SWIFT Token Client and SConnect. Please refer to How to install your token software for installation instructions.
The installation of the SConnect browser extension can also be triggered automatically by logging in to the 3SKey portal or browsing to an application that uses SConnect.
The Install SConnect button on the 3SKey software installation page installs the version 2.13 of SConnect. We recommend to update to this version, that is backward compatible with version 2.10.
The login process to the secure 3SKey portal with your token installs SConnect 2.13 if SConnect is not already installed. If SConnect 2.10 is already installed the portal will give you the option to upgrade to 2.13 or to skip and remain on 2.10, in case you must first check with your system administrator that necessary permissions are available.

Detailed steps for installation/uninstallation and configuration can be found in the SConnect Installation Guide for 3SKey.
More information
Operating system and browser requirements

See Operating System and Browser Support in the SConnect Installation Guide for 3SKey.

Please refer to the specific instructions for your browser on the Browser support page to setup your browser for SConnect.

Configuration requirements

SConnect does not require additional configuration on a supported environment running with default settings. System administrators need to take into account restrictions applied by policy or security software that might block the installation in their environment. Please refer to the Checklist for System Administrators in the SConnect Installation Guide for 3SKey.

New user or installation on new workstation

If you are a new user or if you are installing the 3SKey solution on a new computer you should install the SWIFT Token Client software and Sconnect.

Existing user

If you are an existing user, you should keep the SWIFT Token Client software installed and also install Sconnect

Why moving to SConnect?

NPAPI plugin support is being deprecated in modern web browsers and commercial use of Java SE 8 requires the acquisition of a licence since January 2019 in order to continue receiving Java Security updates. Sconnect also allows for multiple browser support.

Should I remove or keep the 3SKey software?

You need to keep the 3SKey software installed (comprised of SWIFT Token Client and Safenet Authentication Client). The 3SKey token software is required to handle expired token passwords and to ensure the compatibility with third-party applications.

Is my provider or banking application compatible with SConnect?

Please liaise directly with the provider of your application or with your bank to know more.

Version history and notable changes

See Resolved issues in the SConnect Installation Guide for 3SKey.