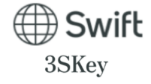 SConnect
What is SConnect and how to install it?
SConnect is a browser extension that can be used to access the 3SKey portal. SConnect makes it possible for the 3SKey portal to communicate with tokens directly in the browser using JavaScript, as an alternative to Java.
We recommend that end-users install the SConnect browser extension now. Java applets are being discontinued for industry security initiatives and the 3SKey portal will stop supporting Java on Dec 31 2019.
Note about Java : Your signing application might still require Java, please contact your provider for more information. If you did not install SConnect you can still use Java and Internet Explorer 11 to login to the 3SKey portal until December 31 2019. Java and SConnect can be installed together. The 3SKey portal will use SConnect if both Java and SConnect are installed.
SConnect is supported on the latest versions of Firefox, Chrome and Internet Explorer 11.
How to install SConnect?
You must install both the SWIFT Token Client and SConnect. Please refer to How to install your token software for installation instructions.
The installation of the SConnect browser extension can also be triggered automatically by logging in to the 3SKey portal or browsing to an application that uses SConnect.
Detailed steps for installation/uninstallation and configuration can be found in the SConnect FAQ.
More information
Operating system and browser requirements

SConnect has been qualified on Microsoft Windows 7 (32/64 bits), 10 (64 bits), Server 2012 (64 bits), Server 2016 (64 bits).

SConnect supports Internet Explorer 11 (starting from version 11.0.9600.18617 of June 2015), Firefox version 57.0 and higher (version 67.0.1 is recommended), Firefox ESR version 52.6 and higher, Google Chrome version 63 and higher (version 74 is recommended).

Please refer to the specific instructions for your browser on the Browser support page to setup your browser for SConnect.



Configuration requirements

SConnect does not require additional configuration on a supported environment running with default settings. System administrators need to take into account restrictions applied by policy or security software that might block the installation in their environment. Please find some examples below:



Group policies and security settings should not block users from downloading and running an executable file in the browser. If this is not allowed the SConnect installation file can be downloaded and run outside of the browser. The installation will resume when visiting the SConnect installation page again.
Group policies and security settings should not block the installation of a browser add-on. For instance, but not restricted to, Administrative Templates > Windows Components > Internet Explorer > Security Features > Add-on Management
If filtering is in place we recommend to whitelist https://www.3skey.com and https://www2.swift.com in your security software
At the time of installation your security software must allow installing files in the following path:
%userprofile%\AppData\LocalLow\SConnect
%userprofile%\AppData\Local\SConnectHost
%userprofile%\AppData\Local\SConnectIE
If SConnect was installed previously from a third party source you must uninstall the SConnect host software and browser extension before installing the SWIFT SConnect package.
With Internet Explorer 11 Compatibility View, Entreprise Mode or ActiveX filtering must not be enabled. More information here.

New user or installation on new workstation

If you are a new user or if you are installing the 3SKey solution on a new computer you should install the SWIFT Token Client software and Sconnect.

Existing user

If you are an existing user, you should keep the SWIFT Token Client software installed and also install Sconnect

Why moving to SConnect?

NPAPI plugin support is being deprecated in modern web browsers and commercial use of Java SE 8 will require the acquisition of a licence after January 2019 in order to continue receiving Java Security updates. Sconnect also allows for multiple browser support.

Should I remove or keep the 3SKey software?

Please keep the 3SKey software package installed to ensure the compatibility with third-party applications.

Is my provider or banking application compatible with SConnect?

Please liaise directly with the provider of your application or with your bank to know more.