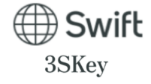 Recover
How to recover my Unique ID
You can recover a token that has been lost, damaged, revoked, has expired or hasn't been renewed yet.
To recover an old token and re-use the Unique ID with a new token, proceed as follows:
Ask your 3SKey administrator to set up a new inactive token for recovery. See the 3SKey Portal User Guide > Set Up for Recovery .
Log in with this new token to the 3SKey portal.
During the recovery process, you will be asked to provide your security code and to change the default password of your token.
Your Unique ID is recovered on the new token.