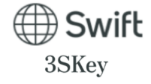 What is your security code?
What should you do if you lost your security code?
The security code is a 16 characters code in the format XXXX-XXXX-XXXX-XXXX that you downloaded as part of a text file (.txt) when you activated the token on the 3SKey portal. By default the file is named code.txt.
This code is required in order to:
Reset an activated token that is locked or whose password is lost
Recover the Unique ID of an expired, lost, damaged or revoked token on a new token
Revoke an activated token if neither the owner of the token nor the administrator can revoke it
The security code is personal, confidential and must be stored safely.
If the security code of a token has been lost a new security code can be re-generated:
Login into the 3SKey portal with the token
Click on Generate Security code
Follow the steps on-screen
You must ensure that the security code is available in case the token becomes unusable (locked, expired, ...).
If the token becomes unusable and you do not have the security code, it is not possible to generate a new security code and it is not possible to reset or recover the token. If that situation occurs a new token, with a new Unique ID, must then be activated and registered to your bank(s).
The security code is linked to the Unique ID of the token. It stays valid for the token after a reset and for the new token after a renewal or a recovery.
If the security code is rejected during an operation on the 3SKey portal please verify that the security code that you provided corresponds to your token and that it was entered correctly: the security code is case-sensitive and the dashes " - " must be included.
If, when you attempt to download the security code of your token, the download operation fails or you encounter an error message " Download couldn't be downloaded ", then see this procedure: Failure to download the Security Code. If a problem occurs when the security code is getting copied on your computer and the name of the resulting file is "null" you will need to log back in after the activation to generate a valid security code.
If, after downloading the security code and clicking on Confirm you receive an error "01277: Internal Error" or "01277: Time-out" then click on Confirm again and the activation will continue.