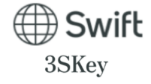 Browser Support
Verify your browser configuration
Supported browsers
Google Chrome, Microsoft Edge and Mozilla Firefox are supported to login to the 3SKey portal using the SConnect browser extension. You can verify that SConnect is installed successfully by validating the presence of the SConnect icon
in the Command bar of your browser.

Please refer to the browser specific sections below for detailed instructions.

Access to the 3SKey portal to activate and manage your tokens requires a Windows operating system. See Installation and support for Mac OS for more information on Mac support.
Verify that TLS 1.2 is enabled
By default TLS 1.2 is already enabled in all supported browsers. Please refer to the page How to enable TLS 1.2 on your browser if you need to verify this setting.
Google Chrome
We recommend Google Chrome version 104 or higher.

After the installation, if you are still prompted to install the SConnect extension when you login to the 3SKey portal, verify that your Chrome browser is up to date. Depending on your browser configuration you may be required to allow the SConnect extension to access file URLs as indicated on this page.

The current version of the SConnect extension in the Chrome store is 2.15. If the extension doesn't update automatically when you login to the 3SKey portal, uninstall the SConnect extension in the Chrome browser menu > More Tools > Extensions, then reinstall SConnect via theToken Software Installation page or by logging back in to the 3SKey portal.
Microsoft Edge
We recommend Microsoft Edge version 104 or higher
The installation of the SConnect browser extension for Microsoft Edge requires access to the Google Chrome application store.
Mozilla Firefox
We recommend Mozilla Firefox version 91 or higher.

With Firefox versions 102 or later you must first install the SConnect extension: click here and click on Add. Then proceed with the installation of SConnect as mentioned on the Token Software Installation page. If an older version of the SConnect extension is installed it must be removed in the Firefox menu > Add-ons > Extensions before installing.

In order to use 3SKey with Firefox you mut install the SWIFT CA certificates and the Firefox Security module.
Installing the SWIFT CA certificates in the Firefox trust store
Please refer to the Firefox section of the page How to install the SWIFT CA Certificates.
Installing the Firefox Security Module
Type in "about:preferences#privacy" in the Firefox URL bar and press the "Enter" key. Alternatively open the menu, click Options then select the Privacy & Security tab.
Under Certificates click Security Devices.
Click Load.
The Load PKCS#11 Device window opens.
In the Module Name field enter 3SKey
In the Module Filename field enter the following string:
c:\windows\system32\etoken.dll


Click OK.
The new security module is installed.