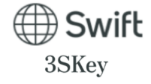 Token software upgrade
How to install the latest version of the token software
Verify whether you are running the latest version of the 3SKey software
Please refer to the steps described under Verify your token software on the page How to install the token software to verify your SWIFT token software installation.
End of support for eToken PKI Client
The eToken PKI Client software that was bundled with previous versions of the 3SKey software has been discontinued and replaced with the Safenet Authentication Client. You can verify that the Safenet Authentication Client is installed by running the SelfTest as instructed above. If there is no Swift Token Client group in your Start menu or if the eToken PKI client is still installed on your system then you must update to the latest version of the 3SKey software.
Update instructions
| | |
| --- | --- |
| 1 | Uninstall the old version |
You will need Administrative privileges in order to perform the following steps.
Go to the Control Panel > Programs and Features or Uninstall a program.
Depending on the currently installed 3SKey software, uninstall the following elements:

SWIFT Token Client 4.0.24
eToken PKI Client 5.1 SP1

Restart the system in order to complete the uninstall.
| | |
| --- | --- |
| 2 | Install the latest version |
Follow the instruction on the How to install your token software? page
Note: If you receive an error message "SWIFT Token Client is already installed" then the latest version of the 3SKey software is already installed. If you wish to reinstall the 3SKey software then you must first uninstall Swift Token Client 4.0.25 using the Windows Control Panel > uninstall a program, then restart your computer.