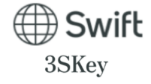 Contact
Who do you need to contact?
| | |
| --- | --- |
| 1 | Check the 3SKey Help for answers |
Check whether the 3SKey Help contains the answer to your question:
3SKey Help
If not, go to the next step.
| | |
| --- | --- |
| 2 | Determine the most appropriate contact point |
Do you need to contact your Bank or SWIFT 3SKey?
For any questions related to the 3SKey portal, please contact SWIFT.

If you are a Bank, please contact your regular SWIFT Support Centre.
For any question related to the banking application, please contact the corresponding application provider.
If you encounter issues in the banking application, please attempt to login to the 3SKey portal. If the login is successful, your token is correctly configured and you should contact the corresponding application provider.
The following table gives common scenarios and their corresponding contact point:
Contact your Bank
Contact SWIFT 3SKey

Register token with banking application
Initial password for new tokens
Order tokens
Transaction rejected
Treasury / signing application

Install token software
Log in to the 3SKey portal
Managing the token on the 3SKey portal
Password, after activation
| | |
| --- | --- |
| 3 | SWIFT 3SKey E-mail support |
If you've determined here above (point 2) that your question is not present in the online 3SKey self help and should be solved by SWIFT 3SKey support, then you can submit your query via e-mail including a description of the issue to a support analyst. The support analyst will investigate your problem and contact you.
E-mail: 3skey.support@swift.com
Please include following information in the mail message:
1. Contact information
First name and family name
Email address
Telephone number
Company name
Clear description of the problem
What is your role on 3SKey and are you the owner of the token?
Serial number of the token (displayed on the token)
2. What action are you performing on the 3SKey portal?
Installing the 3SKey software
First activation – Administrators
Creating a user group
Login
Activation
Recover
Revoke
Renew
Reset
3. What error message did you receive?
4. Please zip and attach the installation log files to the e-mail. Here are the default locations where you can find the log files:
C:\Program Files (x86)\Swift\Swift Token Client\logs\
%TMP%\eTCoreInst.log
If you have not installed the 3SKey software yet, then please provide your operating system details: the version of Windows, and the version of your browser.
| | |
| --- | --- |
| 4 | SWIFT 3SKey Telephone support |
Phone support is dedicated to urgent or technical issues that cannot be resolved by email.
If your problem is not present in the 3SKey website help, is urgent and cannot be solved using e-mail support, you may call a 3SKey support analyst. Our analysts are available to help you during business days from Monday to Friday during the following business hours:
Europe timezone telephone support: +33 1 57 32 35 36 from 09:00h until 12:00h CET and from 14:00h until 16:00h CET (GMT+2). From 12:00h CET to 14:00h CET, the 3SKey support is dedicated to e-mails.
North America, Canada and Latin America timezone support: +1 540 727 1685 from 08:00h until 10:00h EST (GMT-4). Outside of those hours you can send an e-mail to be contacted by a 3SKey support analyst (see above point 3 – E-mail support).
Customers based in the Asia-Pacific region can send an e-mail to be contacted by a 3SKey support analyst (see above point 3 – E-mail support) or call the Europe telephone support at the indicated opening hours.