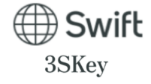 Welcome to 3SKey
SWIFT Secure Signature Key
A multi-bank and multi-network personal digital identity solution
3SKey portal for token management
Before you login, please verify:
Have you installed the 3SKey software? (Verify)
Is your browser configured properly? (Verify)
Is your 3SKey token plugged in?
Important notifications:
Sep 5 2020 update: Version 2.13 of the SConnect extension is available. The PIN policy selection process was updated. Read more.
Reminders: SWIFT Token Client software version must be 4.1 or 4.0.28 in order to login to the 3SKey portal after Dec 2020. Token model PRO are reaching end of support. Java applets are no longer supported. Read more.
What is 3SKey? Learn more
about 3SKey

.