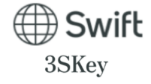 Welcome to 3SKey
SWIFT Secure Signature Key
A multi-bank and multi-network personal digital identity solution
3SKey portal for token management
Before you login, please verify:
Have you installed the 3SKey software on Windows? (Verify)
Is your browser configured properly? (Verify)
Is your 3SKey token plugged in?
Important notifications:
Chrome version 116: An operation on the 3SKey portal using Chrome version 116 can fail with an error code 16004. Kindly perform the operation again using Edge or Firefox.
MAC OS 14 Sonoma: Check the Installation and support for MAC OS page to install the drivers necessary to recognize the 3SKey tokens on MAC OS 14 Sonoma.
What is 3SKey? Learn more
about 3SKey

.