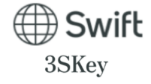 Welcome to 3SKey
SWIFT Secure Signature Key
A multi-bank and multi-network personal digital identity solution
3SKey portal for token management
Before you login, please verify:
Have you installed the 3SKey software? (Verify)
Is your browser configured properly? (Verify)
Is your 3SKey token plugged in?
Warning :
SWIFT is mandating that customers use SConnect as an alternative to Java on 3SKey.com by 31 December 2019 at the latest
Read more
.
What is 3SKey? Learn more
about 3SKey

.