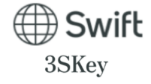 Welcome to 3SKey
SWIFT Secure Signature Key
A multi-bank and multi-network personal digital identity solution
3SKey portal for token management
Before you login, please verify:
Have you installed the 3SKey software? (Verify)
Is your browser configured properly? (Verify)
Is your 3SKey token plugged in?
Note:
The tokens supply chain between SWIFT and distributing banks is not modified by the current sanitary situation.
Read more
.
Warning:
Login to the 3SKey portal after Dec 2020 will require version 4.0.28 or higher of the SWIFT Token Client software.
Read more
.
What is 3SKey? Learn more
about 3SKey

.