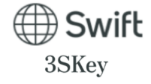 Login problems
You cannot log in
Important:
If you are able to login to the 3SKey portal but cannot login in your bank or treasury application then you need to contact the support of your bank or treasury application. If you can login to the 3SKey portal then your certificate is valid, the password is correct and the 3SKey software is configured properly.
If you experience login problems and cannot connect to the 3SKey portal, then please do the following checks:
Verify that the 3SKey software is installed and configured properly following the instructions on How to install your token software. Verify the system prerequisites in the installation guide.
Verify the configuration of your browser. Also clear the certificate cache and reset the browser settings (instructions for Google Chrome and Internet Explorer can be found here).
Make sure your internet connection is available by trying to connect to another website.
Check that your token is correctly inserted into the USB port and try connecting the token to another USB port.
Verify with your IT support that your firewall and proxy settings have not changed and that the SSL port is not blocked for https://www.3skey.com.
Check the list of known incompatible third party software that might interact with the login.
Check the known issues and error messages section in the Help.
Known error messages: